Flap-flop, Clap-clop: A Place Where Words Are Born
2017.10.20 - 2018.01.16
【Past Exhibition】
Hikkuri-ko, gakkuri-ko – the sound of footsteps under the influence of a little alcohol? Rendered in the exhibition's English title as "Flap-flop, Clap-clop," this is how Sakutaro Hagiwara, in an unpublished manuscript, transcribed the sound and feel of a nighttime walk around the city.
We walk toward other places, encounter other people. Sometimes we have a purpose, sometimes we go where the wind blows. Because we cannot live alone, we turn to somebody else and speak words.
Words are what connect us with other living people; to use words is also to live, to create, to weave, to sing, to think, to seek.
We are never quite in touch with these words. The works of poets feature words that slip
through our fingers, words that have sloughed off their meanings, words that carry an unbearable weight – but they also depict the faintest tremors of the heart that could not be captured without words. To us, words themselves also constitute the other – all the more reason why we must take a close look at their appearance, at their character.
In recent times, the concerns of cultural anthropology – the formation of words tied to
physical acts like speech and song, say, or regional writing and poetry – have borne on how we look at words. The technologies of printing and the internet radically transformed the character of words that once had a close connection with the body and with nature. Now, the increase in moving images is reaffirming to us the real variety of bodies and types of speech in existence.
Then there is the experience of crises such as war and natural disasters. While these cast doubt and criticism on language-centric reason and rationalism, they can also be seen as opportunities to refine our delicate understanding of words. Think of strategies to avoid being dispossessed of one's language by confining it to a private sphere, or of radical experiments to wrench words from their molds and set them free. It is a characteristic of times of crisis that such efforts become more apparent. 
As we pass from the early period of internet democracy into the "post-truth" age, today's words are confronted with issues of division and security. We planned the exhibition Flap-flop,Clap-clop: A Place Where Words Are Born with a view to drawing attention to what artists, who contemplate words through their own acute senses, feel and express – particularly in this socalled"post-truth" age.
Welcome to a place where words come into being, born out of our existence and culture.
Oct 20 (Fri.) 2017 – Jan 16 (Tue.) 2018
Venue: Arts Maebashi、The Maebashi City Museum of Literature
Open hours
Arts Maebashi :11:00 – 19:00 (last entrance at 18:30)
The Maebashi City Museum of Literature :9:00 – 17:00 (last entrance at 16:30)
Closed on Wednesdays and between 28 December 2017 and 4 January 2018
Admission
Adults: 700 (350 yen)/University students and Over 65 years old: 350 yen.
Free for High school students and Under.
Fares in brackets are rates for groups of 10 more.
Free entrance on 20 and 28 October and 9 January.
Entrance of Maebashi City Museum of Literature between 9 am and 11 am:350yen.
Entrance of Arts Maebashi between 5 pm and 6:30 pm: 350 yen.
Entrance in pair:350yen.
Organizer:Arts Maebashi, The Maebashi City Museum of Literature
Sponcers: The Agency for Cultural Affairs, Government of Japan in the fiscal 2017
—————————————————————————————————
Artists
ADACHI Tomomi /ARAI Ryoji/URAGAMI Hideki/OSAWA Gakyu/OSAWA Chikutai/ONO Yoko/oblaat/KAWAGUCHI Tatsuo/KAWARA On/Francesco CANGIULLO/KITAZONO Katsue/KUSANO Shinpei/John CAGE/SHIOMI Mieko/Kurt SHIWITTERS/SHIRAISHI Keiko/SUZUKI Hiraku/Tullio D'ALBISOLA/Tristan TZARA/TOMIYA Kazuo/TOLTA/NIIKUNI Seiichi/ni_ka/HAGIWARA Kyojiro/HAGIWARA Sakutaro/FUKUDA Naoyo/FUZUKI Yumi/Ben VAUTIER/George MACIUNAS/Maniackers Design/Filippo T. MARINETTI/MIYAGI Futoshi/MUTTONI/YAMAKAWA Fuyuki/YAMAMURA Bocho/YOKOBORI Sofu
—————————————————————————————————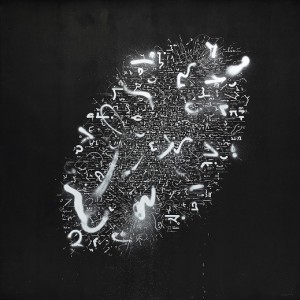 SUZUKI Hiraku  Constellation#1 2016, silver ink, Chinese ink on paper (mounted on aluminum) Collection of MAEZAWA Yusaku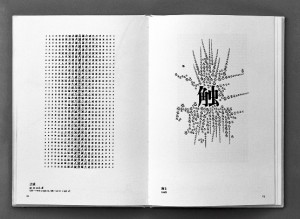 NIIKUNI Seiichi The Collected Poems of NIIKUNI Seiichi 1979, ASA(Association for Study of Arts), Urawa Art Museum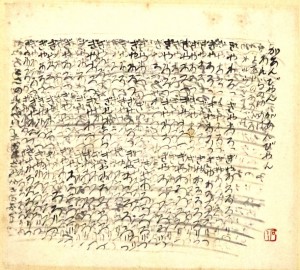 OSAWA Gakyu  GAANBYAN , Collection of TAKAHASHI Hoso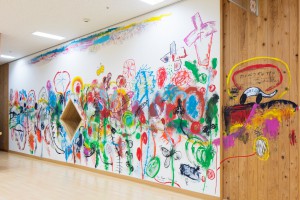 Wall Painting by ARAI Ryoji and Twenty Children, 2008, Maebashi City Library for Children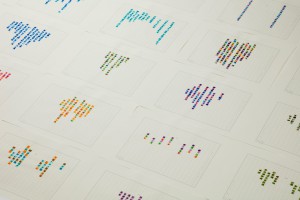 KAWAGUCHI Tatsuo  Wordless Poem 2017, 100 manuscript papers、pencil、watercolor, Artist Collection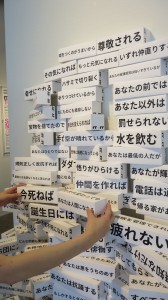 TOLTA   dada/ Positive wood brock to curse, 2016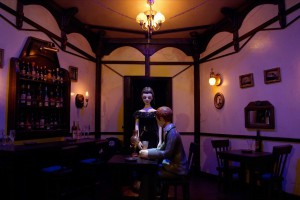 MUTTONI  A Song without Title 2016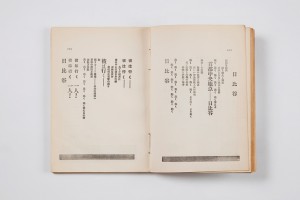 HAGIWARA Kyojiro  Death Sentence  1925, Choryusha shoten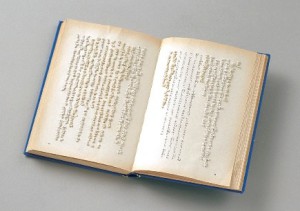 FUKUDA Naoyo   Hibernation   2007, Stitch on Paper,  URAWA  Art Museum