HAGIWARA Rumiko : Artist in Residence
【Past Program】
In 2014 Arts Maebashi inaugurated the Tatsumachi Studio, a place where invited artist can stay and create art, and started a residence and art producing program for artists. This year, for the first time, we published an advertisement to recruit artists who have some kind of connection to Gunma Prefecture and wish to work on an art project in Maebashi. We received 28 applications that were accurately examined by 3 expert judges and Arts Maebashi staff and, as a result of the selection process, Rumiko Hagiwara has been selected and invited to stay in Maebashi starting from February 24.
Hagiwara was born in Gunma Prefecture and, after her collage graduation, she moved to the Netherlands, where she decided to base her activities as an artist.
Her art mainly focuses on recording all those actions and behaviors going beyond ordinary feelings and meddling with the casual everyday life. She records these behaviors using several types of media (photographs, video, installations etc.) and presents these recordings as artworks.
This time, we plan to create artworks while holding researches in the city center area and bringing the artist and the citizens to meet and talk. Also, we plan to hold small events at Tatsumachi Studio during the period of Hagiwara's stay in Maebashi.
■ Period of stay
 From February 24 (Wed.) to March 24 (Thu.)
■ Place of stay
 Tatsumachi Studio (Chiyodamachi 2-4-1, Maebashi)
■ Events planned during the stay
Open Studio
During her 1 month stay in Maebashi Rumiko Hagiwara had been conducting her research in the city center area and, looking at our city from a slightly different point of view, she came to clip out an image of Maebashi everyday life that goes behind the ordinary feelings. Part of these materials was made into artworks and she now wants to open the studio to the public and present some of them to the citizens as ideas for our city future development. During this opening period, the artist will be at Tatsumachi Studio, so you will have the opportunity to touch and feel the image of Maebashi presented by the artist and the ideas she suggested, while admiring her works and having a talk with the artist herself. Feel free to come and visit her!
※Please be noted that there may be times when the artist is not in the studio.
Opening days and hours: March 17 (Thu.), 18 (Fri.), 20 (Sun.), 21 (Mon.) 13:00-18:00
※ On March 19 (Sat.) the artist will not be at the studio, so the studio will remain closed.
Location: Tatsumachi Studio (Chiyodamachi 1-4-26, Maebashi)
■Artist Profile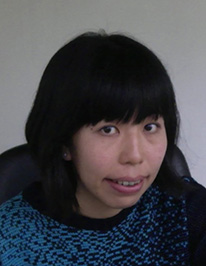 The site-specific installation, photo and video works of Japanese artist Rumiko Hagiwara revolve around coincidental encounters within daily life situations that often emphasize factual errors or coincidental approvals between image and language. Hagiwara combines a western conceptualist approach (ready made objects) with influences from traditional Japanese culture (shadow, light, reflection), and aims at twisting the omnipresence of the unnoticed trace of human action and behaviour into subtle, and often humoresque poetics of the ordinary.
Rumiko Hagiwara was born in Gunma (Japan) and studied at the Tokyo Zokei University in Tokyo (2000-2004). She was an artist in residence at the Rijksakademie van Beeldende Kunsten in Amsterdam (2008-2009), Tokyo Wonder Site in Tokyo(2012)  and at AIR Antwerpen in Antwerp (2013). She is represented in the gallery Jeanine Hofland Contemporary Art in Amsterdam.




《Ons stone / Two stones》 2013年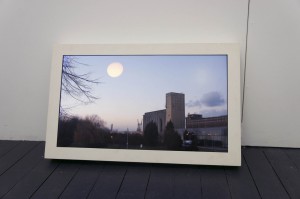 《Photo of A4 paper》  2014年
■ About Tatsumachi Studio
We renewed a 4 stories building located in the neighborhood of Chiyodamachi 2-chome in Maebashi and inaugurated it in 2014 as a place to be used by the invited artists as a studio (for art creation, art events and exhibitions) and an accommodation during their period of stay. The first two floors of the building are used as an art studio, while the 4th floor has been transformed into a living space.