KATO Akira Aloof Bricoleur
2017.03.18 - 2017.05.30
【Past Exhibition】
Akira Kato carried on activities as an artist member of the "Gunma NOMO Group", that was active in Maebashi in the 1960s. At that time Kato was working as a car mechanic and carrying on activities as an artist at the same time, drawing attention with his artworks created with aluminum, wire brushes and other tools and materials he found in his surroundings. In 1969 he was chosen to display his works at the "Trends in Contemporary Japanese Art" exhibition, where new artists who receive a high evaluation at a national level are invited to join. Kato's work creation process consists into collecting from his surroundings natural materials and articles of daily use that have been discarded, and transforming them into artworks with bricolage. In times when people look for ways to bring back to life things like renovation and overhauling and give them a new sense of value, Kato's works may be highly suggestive, since they bring a breath of life to the industrial products that end up being buried every day. Therefore, we present this exhibition, the first one showing the activities of Akira Kato as one of the contemporary artists who newly represent the region of Gunma.
—————————————————————————————————–
18March 2017 – 30May 2017
Venue: Arts Maebashi.
Opening hours: 11:00-19:00 (last admission: 30 minutes before closing)
Closed on Wednesdays.
Admission :
Adults 500 (300) yen, University students, Over 65 years old 300 yen.
Free for High school students or grades below.
Fares in brackets are rates for groups of 10 people or more.
Free entrance on April 16 for the Festival of TUNAGARIZUMU.
Re-entry with half-ticket: 300 yen (entrance between 5 pm and 6:30 pm).
Organizer: Arts Maebashi
—————————————————————————————————–
Akira Kato
Born in Gunma, Japan, 1937. Working in Gunma, Japan.
He entered Chugi Matsumoto's art school while working as a car mechanic after junior high school graduation. He became a member of the "Gunma NOMO Group" in 1965 and won the Outstanding Work prize at the 10th edition of The Shell Art Competition in 1966. He also won a prize at the 7th Contemporary Art Exhibition of Japan in 1966 and continued to win prizes until its 9th edition. He was awarded an excellence price at the 4th edition of Japan Art Festival and he was chosen to join the selected exhibition of the "Trends in Contemporary Japanese Art" event in 1969.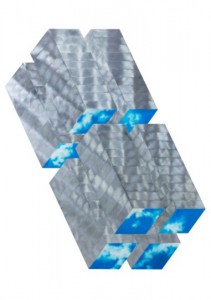 "Space Compression" 1969, Oil on Aluminum, 218×191.5×2cm, ARTS MAEBASHI collection, photo by KIGURE Shinya.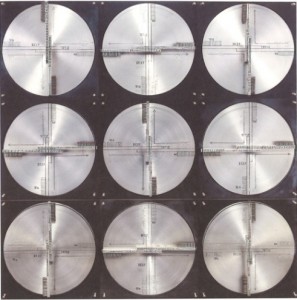 "REPORT EA900",1966, Vinyl chloride plate with bolts and nuts, wire brush on Aluminum, 135×135cm, Takasaki City Museum collection.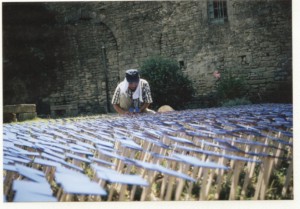 "Between Sky and Earth", 2004, Water paint on wood plate with disposable chopsticks.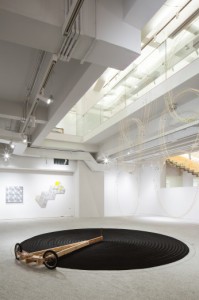 "KAN", 2013, Iron sand, timber with bolts and nuts, bicycle tire.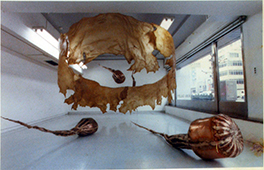 "Chika-kei no kari", 1988, Copper, The skin.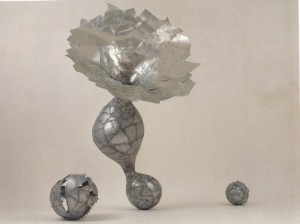 "Monogatari no ryukei", 1991, tinplate, 210×150×140cm.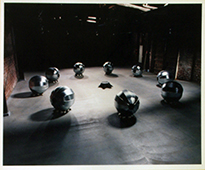 "RENKAN", 1995, tinplate, black paint, φ130cm.