TANAKA Seihyo: The Eternal Modern Boy
2016.03.19 - 2016.05.17
【Past Exhibition】
Seihyo Tanaka was a Japanese artist active at the Nihon Bijutsuin(Japan Art Institute) during the Taisho and Showa eras. He worked on developing a style pursuing modernism and later years he produced a series of landscape paintings inspired by the deep contemplation of nature while trying new styles one after another. With his gentle and reliable personality, he carried on exchanges with many artists regardless of their style being Western or Japanese and regardless of them being members of an artistic organization.
As the first retrospective exhibition dedicated to this artist, this exhibit displays the masterpieces Seihyo painted through the years, as well as some of his sketches and honga (paintings realized on Japanese washi paper). Some of these artworks come from our museum collection, but most of the items displayed have been kindly provided by the Japan Art Institute and many other museums and private collectors.
After the war Seihyo chose to not display any of his artworks at galleries and exhibitions anymore. This makes this exhibition a precious opportunity to see his artworks all gathered in a single gallery. It is an unmissable chance to come and admire all the works he produced during his 70 years of activity.
 19 March 2016-17 May 2016
Venue : Arts Maebashi
Open hours : 11:00-19:00 (entry up to 30 minutes before closing) 
Closed on Wednesdays
Admission:
Adult 500 (300) yen, University students, Over 65 years old 300 yen. 
Free for High school students and Under.
・Fares in brackets are rates for groups of 10 more.
・Free entrance on 10 April for festival of TUNAGARIZUMU.
・Free entrance on 7 May for the anniversary of TANAKA Seihyo's death.
・Entrance between 17:00-18:30: 300 yen
Organizer: Arts Maebashi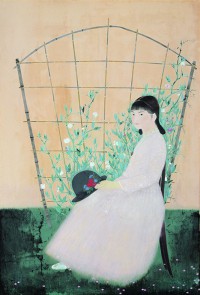 "A Girl Approaches Flowers", 1929, Kumamoto Prefectural Museum of Art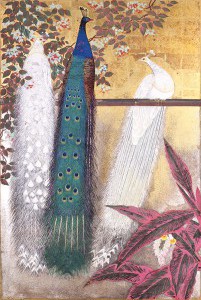 "Peacocks", 1932, Eisei-Bunko Museum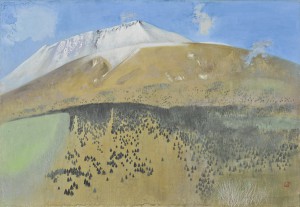 "Asama Highlands(Ⅴ)", 1980, Arts Maebashi