Forest of Expression: Art as a Communal Act
2016.07.22 - 2016.09.25
【Past Exhibition】
Welcome to the Forest of Expression.
Animals and plants live together in the Forest, depending on each other. The Forest is very much like where you live. Here, you'll encounter many kinds of expression, and many friends. No-one knows yet what happens there, what's about to happen there.
In "Forest of Expression: Art as a Communal Act," we are presenting eight projects. Five of these projects have been going on since before this event, and will carry on afterwards too, somewhere in this Forest. The Forest of Expression is a place for these projects to hold study sessions, discussions, rehearsals, progress reports, presentations and exhibitions. You might be worried about entering an unknown world, but please, let your curiosity guide you inside. There you'll find things you know intimately, as well as things you would have never even imagined. We'll all explore together with the artists we meet in the Forest, bathe in the sunlight, drink the clear water, and spend time developing with the trees and inhabitants of the Forest. So come and experience with us this brand new initiative, brought to you by Arts Maebashi!
We hope to meet you in the Forest of Expression, starting at Arts Maebashi this summer.
—————————————————————————————————
July 22 (Fri.) 2016 – September 25 (Sun.) 2016
Venue: Arts Maebashi Gallery
Open hours: 11:00 – 19:00 (last entrance at 18:30)
Closed on Wednesdays
Admission
Adults: 500 yen (300 yen)/Students: 300 yen/Over-65s: 300 yen/Children (up to high school): Free
The price inside brackets is for groups of 10 people or more.
*One entrance ticket may be used up to three times during the event period.
*Admission is free on August 20 (Sat.), due to Summer Vacation Kids' Festa 2016.
*Admission is free for those who fall under the following:
1. Those with a physical disability certificate, plus one caregiver
2. Those with an unemployment insurance benefit certificate, currently seeking a job
3. Those with a certificate of eligibility for child rearing allowance
4. Those with a valid certificate of eligibility for long-term care insurance
5. Those with a certificate of refugee status
6. Those with a public welfare recipient's certificate
7. Teachers
8. Those who work at a welfare facility
9. Students of the Faculty of Art, Medicine, Welfare and Education
Organizer:Arts Maebashi, Executive Committee for Advancing Dialogue through Art
—————————————————————————————————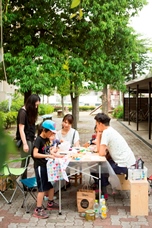 To the Forest! The Forest's information center.
Yuta Nakajima & Nankitsu Danchi
First, visit the Forest's information center. Here, you'll be given some travel advice. Destination? Danchi housing estate in the Forest, where all kinds of people live. In the l ate afternoon, take in the smell drifting from each house and try to guess what they're having for dinner ‒ or look for art tucked away in the estate. Join in this journey, and you'll be one of the residents of the Forest of Expression.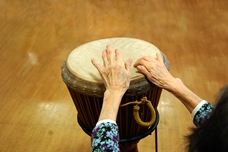 Shamans of the Forest. Memory awakened by rhythm.
Gaishi Ishizaka, Zakuro Yamaga & Day Service Center Eimei
Do you know about shamans? They beat drums from foreign lands , and converse with the spirits of the Forest. Their drumming hands mark 90 years of history, and their shouts evoke memory of the past. So why not come and perform with the shamans too?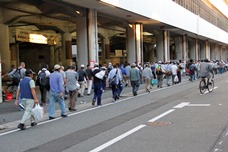 Become a poet in the Forest.
Kamagasaki Arts University
You'll find the poet Kanayo Ueda perched on a tree stump in the middle of the serene Forest, with the folks from Kamagasaki Arts University. This is a poetry salon that no-one knows, where poets put their daily life down on paper, and write poetry. By putting little everyday feelings and events into words, you too might feel a whole new change come over your mind.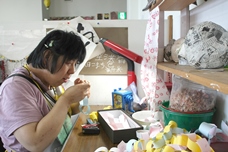 Forest Museum. Finding the seeds of expression.
Tanpopo-no-ye
At Tanpopo-no-ye, Juri Ito collects the containers of medication that she and her friends take every single day, one by one. Masahito Nakagawa draws pictures of train timetables day after day, and goes on imaginary journeys. It was the staff at Tanpopo-no-ye who found the fun in their activities. So join us, and think about the moment that our everyday life becomes a work of art, together with the friends from Tanpopo.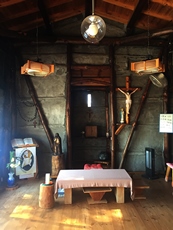 School in the Forest. Gathering and learning, here and now.
Port B & Akatsuki No Mura (Akatsuki Village)
The Akatsuki Village was set up in this Forest by a priest.
People from m any lands gather at the Village, and live collecting unwanted articles. There are former refugees from Vietnam who made their way from across the sea, and people from Kyushu, Spain, and elsewhere. Akira Takayama and Port B will join this gathering that can teach us so much, and spread this learning to the wider community.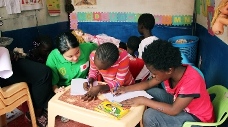 A different country in the Forest.
Art for Peace & kids from Kenya
There are people of many nationalities living in the Forest. In this area, Rumiko Seya is running her "Art for Peace" project, which organizes creative activities to heal the minds of children in Kenya. The powerful expression of children who are in a helpless situation, caught up in national-level turmoil like armed conflicts, is a message to us that calls for peace.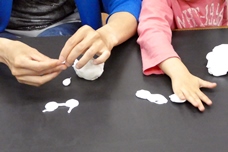 The Forest, 19 years in the future.
Satoshi Hirose, Tomomi Goto & Nozomi-no-ie (maternal living support facility Nozomi House)
Can you imagine this Forest in 19 years' time? Satoshi Hirose, Tomomi Goto, and the friends from Nozomi House put everyone's letters, photographs and artwork into a time capsule, and bury it in this Forest. This time capsule will lie sleeping in the soil, dreaming of being dug up again 19 years in the future.
How will the Forest of Expression have changed in all that time?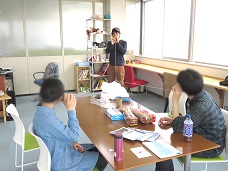 A home in the Forest.
Tatsushi Takizawa & Alice Garden
There are many different kinds of time for you to experience, tucked away in this Forest. You'll find rooms, people chatting a way, table tennis, a manga area, and even things that you have never encountered before. In life, you'll go through fun times and tough times. But ping and pong the table tennis ball back and forth, and you might just end up striking up a conversation from the heart. Tatsushi Takizawa and the Alice Garden, which is an organization that offers a free space for young people who don't go to school, will spreads in the Forest the gentle atmosphere that fills the Alice Garden.
What kind of places make you feel at home?
—————————————————————————————————
Sponsor:The Nippon Foundation
Partners:Tanpopo-no-ye, Alice Garden (NPO), Cocoroom (NPO), Japan Center for Conflict Prevention (Specified N PO), Gunma HHC, Gunma University, Tomio Koyama Gallery, Sayaka Clinic, Day Service Center Eimei, Nozomi- no -ie (Jomo Airinsha), Akatsuki No Mura (Francisco No Machi), Wataboshi-no-kai, Nankitsu Machi Municipality