Takayuki Yamamoto × Arts Maebashi BEYOND 20XX
2019.07.19 - 2019.09.16
Arts Maebashi uses "creative," "share," and "dialogues" as three activity concepts, and we are working on a wide range of initiatives including collections, exhibitions, regional art projects, collaboration with schools and welfare facilities, and so on. At our facility, an artist, YAMAMOTO Takayuki, and Arts Maebashi curators discuss what learning through art is, and think about the future role of art and museums.
"Education reflects the vision of the future that the adults of that era and of that area envision," says Yamamoto. In the new work Beyond 2020 Morals and Art which will be presented at this exhibit, creates works in conjunction with the public and shows the relationship of education and the future within a science fiction-like outlook on the world.
Our future is formed by connecting the past and the present through diverse "learning." What world awaits beyond mutual "learning" through art?
————————————————————————————————————————
July 19, 2019 – September 16, 2019
Venue : Arts Maebashi 
Open hours : 10:00-18:00 (entry up to 17:30) 
Closed on Wednesdays
Admission:Adult 500 yen, University students, group of 10 more, and over 65 years old 300 yen.
-Combined Ticket for " Art Meets  06 MOMMA Miki/yang02 "
-Free for High school students and under.
-Free entrance on 10th August and on 8th September.
-Entrance on the hot day over 35 degrees: 300 yen.
Organizer : Arts Maebashi
Cooperation : Gunma University Education Department Art Education Course, Suiran LTD., Seishin Kindergarten, Maebashi Cinema House
————————————————————————————————————————
YAMAMOTO Takayuki
Born in Aichi prefecture in 1974. While his academic studies were primarily focused on pedagogy, his artwork traverses a broad range of subject matter and explores many aspects of society and human nature. Yamamoto's approach to artistic creation is simultaneously critical and humorous. His work has been presented in many major international exhibitions worldwide. He is currently investigating various approaches to education in order to deepen and broaden his idea of creation based on his concept of "moments of facing the unknown."
The main exhibit will have "Go Betweens: The World Seen through Children" (Mori Art Museum and others 2014-2015), and Kochi-Muziris Biennale (India 2016). Recent solo exhibits include "Takayuki Yamamoto's Children of Men" (Art Lab Aichi 2017). Recent works include "Art and Labor" (Co-authors, Yoshio Shirakawa and Atsushi Sugita and others, Suiseisha 2018).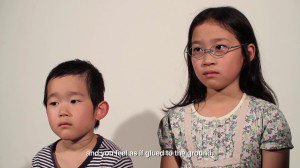 Facing the Unknown,  2012, 13 min. 59 sec.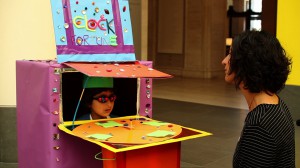 Telling Your Future, San Francisco, 2012, 13 min. 17 sec.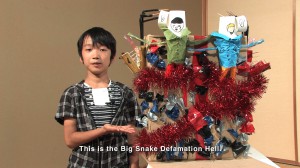 New Hell, Aichi, 2010, 6 min. 48 sec.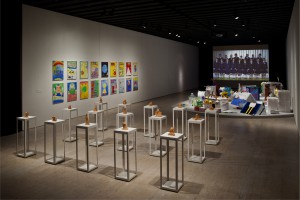 the theme song from the Future of North East part of Japan Expo 1987 "with dazzling feeling", 2015, installation view